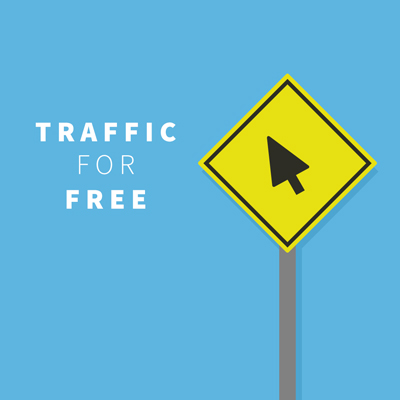 Once you have created a quality product, you are well on your way to building your digital publishing business. However, "if you build it, they will come" doesn't quite work. You need to put in some work to generate "traffic" – people checking your stuff out.
There are two types of traffic. Paid traffic is, as it sounds, traffic that you pay for. Free traffic is traffic that you don't pay anything for.
The upside of paid traffic is that you can get fast results. You pay some money, traffic comes your way almost instantaneously.
With free traffic, you have to invest time instead of money. It usually takes longer to see results.
Which should you use? Both, of course!
In this article, we are going to focus on free traffic. While all of these are terrific ways to bring people to your website, they do require some time to get going. Just be prepared for that.
Best Sources Of Free Traffic
Have you ever been on a forum? This is where people go to discuss a certain topics. If you can position yourself as an expert on forums in your niche, then you can draw people to your products. Best of all, you don't have to spend any money!
That is why forums are a fantastic source of traffic.
Another great tool for driving traffic to your products is social media. Social media platforms like Facebook, Twitter, and Instagram are places where people come together to make connections and share content.
If you create shareable content and create compelling profiles on these sites, then social media can be a great tool to build your audience.
Youtube is another terrific source of free traffic. Youtube is one of the most popular websites online. That means if you are able to create and promote videos on it, you can carve out a tiny piece of that traffic pie – which can be HUGE!
Blogs are also popular online. These are basically online "journals" that people come to consume content on a particular content. If you create your own blog and feed it with content, then you can start attracting an audience, which can translate into customers.
For this reason, creating your own blog is another great way to generate free traffic.
Likewise, commenting on other people's blogs can help bring people to your content. If you are able to provide useful feedback on a popular post that generates thousands of hits, then you will have lots of eyeballs on you and the site you link to on your profile!
Writing and publishing a free ebook on Amazon Kindle can also generate free traffic to your website. Millions of people browse the Kindle marketplace for ebooks. If you offer an inexpensive ebook with fantastic content, then promoting your products in the ebook is a great way to drive free traffic to your website!
If you have an email list or subscribers on your blog, you can leverage that audience by swapping emails or blog posts with another person with a large following. Basically you're saying to them "I'll promote your stuff if you promote mine."
Most people will take that deal, making this an effective way to bring people to your products.
Another way to generate free buzz AND traffic to your product is to get a respected person in your niche to review your product. One positive review to a large enough audience can open up a flood of traffic to your product.
Now you have a bunch of ideas for free traffic generation. Once you have a product ready to go, you have no excuse not to bring in paying customers!